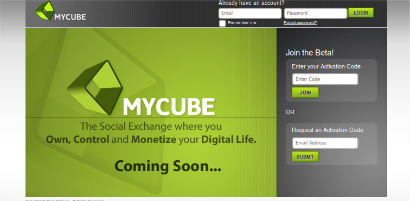 MyCube is a brand new social network, still in its conception phase. It was recently opened as a beta version, but its true potential is yet to be seen. By what can be learned from MyCube developers' page, the project aims at differentiating itself from the other social networks, in the following ways:
Focus on giving privacy and control
MyCube wants its users' privacy to be respected. In fact, its goal is to provide both individuals and businesses with a Social Exchange™ platform – rather than a social network, as MyCube's authors like to call their creation – where they can exchange information and content safely and efficiently. MyCube believes in the right of each user to own, manage and have full control over their data, contents and digital identity..
Common interest-led interaction
On MyCube, interaction between users is enhanced and encouraged by common interests sharing. Identical hobbies, dreams, or fields of study can get people closer to each other, on both a personal and a professional way.
Virtual currency
MyCube developers created a virtual currency (Cubes) that can be used to buy and sell valued content on site. 1 Cube equals $0.01 Singapore dollars, and even though it can only be spent within MyCube, the social network creators say users will be able to eventually convert it into real money.
To keep it short, MyCube is a great promise to the public. The service is currently in private beta but everybody can register an account and have a taste of the above explained functionalities.
To experiment with this new social network, you could try out the MyCube private beta version (by requesting an invitation on MyCube.com, as you need an activation code to access the site) or just wait for the official opening. Hopefully, not too far in the future.
Originally posted on: Written on June 11, 2011, Saturday
Looking for older posts? Check the Articles archive!